Organisation Background
Cherry Tree Gentle Farewells is an independent, family-run end-of-life veterinary practice, attached to a well-respected independent pet crematorium in the heart of Kent.
Cherry Tree Gentle Farewells was started in November 2020, initially just providing compassionate home euthanasia for dogs and cats, and now home visits and in-clinic euthanasia. We have built a bespoke building, solely for end-of-life care which opened in February 2022. We are looking to revolutionise the entire experience by creating a homely, private and peaceful setting for owners to spend their final moments with their pets.
The rooms have comfortable seating, soft lighting, and views across open fields. They also have private gardens should owners wish to be outside to say goodbye on sunny days. This experience is focused on owners and their pets.
There are no crowded waiting rooms, no steel consult tables and as much time as needed to say goodbye.
Organisation Aims & Mission
Our ethos is about quality of service and bereavement support, with only 2-4 appointments daily.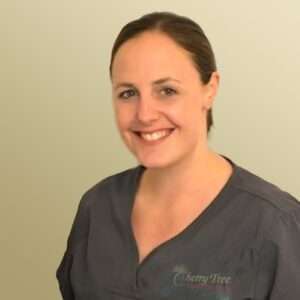 Nicola is the Founder and Director of Cherry Tree Gentle Farewells