If you are thinking about diversifying but are not sure where to start, well, you wouldn't be the first one to feel confused or overwhelmed.
We frequently get asked "how to diversify", "where do you start?" and a few "I'm struggling to work this out – help!" type messages. It can be pretty daunting to think about how to work out what you want, and then, how to achieve it. So VSGD founder Ebony has compiled a list of practical steps to help you create a strategy for success.
1. First things first, you cannot just WANT to diversify.
Running away from something you do in practice or any other job for that matter will just stay with you in any new roles you find. We have to reframe the pain we are pushed from, into a pull that we are drawn to. Companies can tell a mile off if you are running from something, and they won't want that in their team. What about their business excites you?
Reframe: "I don't like the late finishes with no recognition at work" to: "I'm seeking a flexible working calendar with great team comms and a feedback network"
2. Identify what "themes" and "functions" you are drawn to
Theme is the sector or work or cause you are passionate about. So for me it would be career development or equine welfare.
Functions are the skills and competencies you want to flex in those themes you have identified. For me – hosting and mentoring.
Watch this Themes and Functions Trailer with Nick Askew from Conservation Careers

So what are they for you?
Is it welfare? The human-animal bond? Education? AND why are you specifically passionate or curious about it?
If you struggle to answer this then recount in your mind what are you doing when you have that state of flow or satisfaction or just a big fat smile? THAT is what you need to do more of. Really ask yourself when do I feel my best? Get a piece of paper out and write down everything that makes you feel good- veterinary and non-vet related.
3. What are your non-negotiables and values?
Non negotiables are the things that must be in place for you to be able to work at your best. Do you have to live in a certain location in the world? Do you need certain hours to fit around childcare? Would an inclusive workplace to neurodivergence help you to thrive?
And with that, really question what you value. What must you display in order to feel authentic and you? Not what you think you should value but the things that are YOUR internal compass. These are not choices but ways of being that need to be uncovered by each and every one of us.
Try these exercises on for fit
Pick a peak moment in your life – perhaps a role or a specific time within a role where it felt great for you – write down the behaviours of yourself and others, the impact you might have been making and any other important observations of note.
You can take this one step further and plot your squiggly career – download our worksheet here
4. Explore
Once you've started with these first steps, you can start to explore the avenues of work that you might think will allow you to display the actions and pursue the passions you are interested in, rather than just moving around in the dark feeling your way for what might be the right door.
Tip – use our jobs platform to set alerts for certain type of roles and sectors and use LinkedIn – head to jobs and type in your 'theme" AND 'function"
E.g. Public health AND policy would give you these roles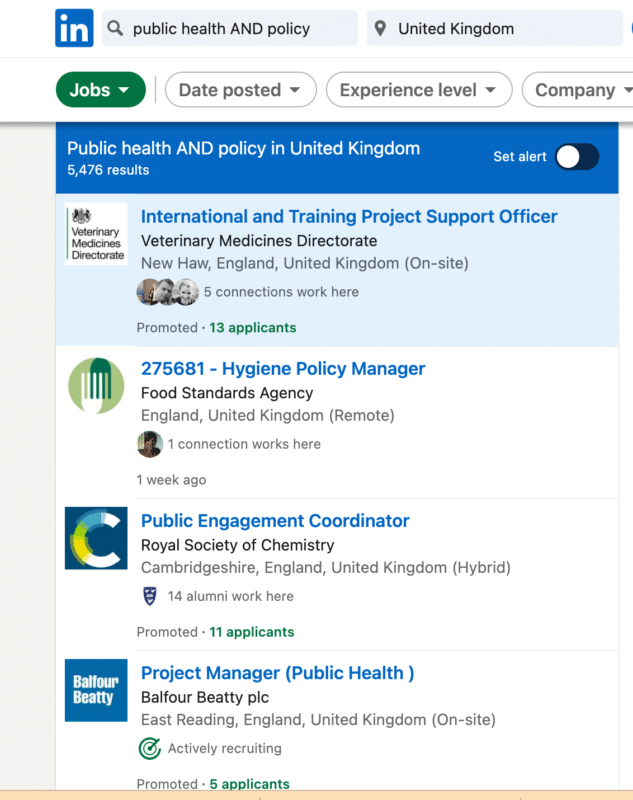 5. Schedule time in your diary daily to do the above.
If you work full time, then maybe set aside 2 hours on a Sunday. This is dedicated time for you to:
a) Identify organisations that have similar values to you
b) Stalk people on Linkedin or use the search bar in VSGD
c) Make contact with them and ask them for a 10 min chat on phone to SPECIFICALLY ask them about their roles and the realistic nature of displaying the actions and passions you want to support
d) Ask your friends to put you in contact with people they might know in those organisations too. Our friend network is golden! You have thousands of people right here in VSGD across a number of communities
e) Sign up to the organisation's career notifications! NETWORKING is key to gaining your next move. Take a read of our blog "build your well before you are thirsty" and have a listen to this short Harvard Business Review podcast
6. Work on your CV and elevator pitch
You'll need this to transfer the skills you have to the skills those organisations want. Watch back stop selling yourself short at VSGD live with VSGD's Head of Coaching Adrian Nelson-Pratt, or why not check out our 5-week guide to getting a job and our Career Accelerator course.
7. Get a coach
It will be the best investment you have ever made in yourself. I promise. This person will hold a mirror up to you and keep you accountable.
"Coaches are like personal trainers for the mind and will ask the questions you are needing answers for and support you to help you reach your goals in a quicker time than you may do own your own, particularly if spare time is the limiting factor!" Olly King, VSGDer.
Why not join our group career coaching programme which kicks off in Autumn 2023 (use VSGD10 for a 10% discount too)
8. Test the water
Volunteer or see practice with people whose roles you might like go and find out if it floats your boat. Look at their roles and teams- where are their problems or gaps? Can you help plug one or help work our solutions for them? Always have in your head- How can I help you? Keep this mantra with you everyday
9. Get comfortable with dead-ends, no and rejection
A no is just one closer to your yes! What is for you will not pass you. See the lesson- what can I do differently next time?
10. Support others
Help someone else every day in whatever role you are currently in. Supporting others raises our energy to support ourselves and can really highlight our strengths.
11. Get feedback.
Ask 10 people who you respect and like to email you with what they think are your top 3 strengths and 1 thing they think you could work on to be a more authentic and better you. Ask them to be honest. Take this feedback and use it to shape the way you tackle and find your next role.
Watch back VSGDer Julie Ross TED-style talk from VSGD LIVE– remember what is on the back of your shirt? What do you want people to say when you walk out of the room about you?
12. Remember career changes are marathons not sprints.
Pace yourself and make a plan based on the above. There will be dead ends and squiggles and every action you take will give you information and lessons about your way forward. The answers are in you, I promise. Tap into what feels good – when do you feel in flow, when do you feel drained? These are clues to the way you best work. Finding out what you don't like is also just as valuable, and remember to enjoy the journey on the way. This is our one life, let's remember to smell the roses on our veterinary passport meanders!
#VetPassport #VNPassport
13. Have fun! Be curious!
Remember how you were as a child- imaginative, playful, inquisitive, funny. Bring that into your quest. How privileged are we to be able to reinvent our careers. You might find that actually the grass is not greener and that tweaking where you are gives you the thumbs up feeling.
14. The energy you put out in the world directly reflects the energies you receive
Surround yourself with positive people. Remember there are radiators and drains in this world. You want to be a radiator and surround yourself with warmth too (they don't just help with the season change).
Bonus point: Tell us what types of roles you would like to hear more of and VSGD will sort some more FB live Q and A interviews for you showcasing more #VetPassport #VNPassport